MeSAF
– clean fuel take off
Sustainable Aviation Fuels (SAF) are a necessity to reduce greenhousegas emissions from aviation. Today, the production of SAF is very limited compared with the global consumption, and at the same time, ambitious mandates for their use are discussed at national as well as EU level.
In Denmark there is an ambition to operate the first green domestic flights already by 2025 and by 2030 all domestic flights must use SAF. This creates an urgency for rapid deployment of SAF production capacity.
Leading greentech providers collaborate with end-users to pioneer sustainable aviation fuels and rLG
Sustainable and Scalable
One of the most sustainable and scalable routes to SAF is via green hydrogen and CO2 that is converted to a synthetic fuel either via methanol as an intermediate or by Fischer-Tropsch synthesis. The objective of MeSAF is to develop and demonstrate a novel technology that converts raw e-methanol, before distillation, to MeSAF in a single step using a groundbreaking catalyst from Vertimass, US. This technology will have clear advantages in its ability to operate flexible based on electricity from renewable sources, and in its simplicity, that altogether makes it very cost competitive.
The MeSAF Target
The target is to produce the first MeSAF at pre-commercial scale in Aalborg and prepare the technical basis to build a full-scale plant in Aalborg with a production capacity of 10.000 tons/year fully operational and to supply the first domestic route in Denmark and ramping up production to reach Net Zero goals.
Fossil fuel independence
The  MeSAF technology  will  support  the  conversion  of  electricity from wind/solar energy to green aviation fuels and renewable energy storage. Converting fluctuating renewable energy to green fuel can provide  grid  balancing  services  and  help  stabilize  the  grid  and  facilitate integration  of  larger  shares  of  renewable  generation  without  compromising grid stability and security of supply. With the national targets set in Denmark approximately 10.000 ton of SAF will be required in 2025 (half of consumption in domestic flights) increasing to 22.000 tons towards 2030.
CO2 Reductions
The production of 10.000 tons of MeSAF to replace fossil aviation fuel will reduce CO2 emissions by 31.000 tons/year and as production is ramped up to 100.000 tons/year the CO2 reduction will reach 313.000 tons/year.
Energy efficiency
One of the benefits of the MeSAF technology is the ability to gradually scale production to meet demand very cost efficiently leveraging e-methanol production in the spoke-and-hub model. This will allow that each new e-methanol plantuse best available electrolyzer technology as production capacity is increased.
Making air traffic sustainable is of high priority, and MeSAF makes up a potential solution. Existing Fischer-Tropsch based technologies require very large scale and are not ideally suited for the intermittent hydrogen production from wind and solar energy. With this new technology from Vertimass we expect to be able to make use of our existing experience in e-methanol and deliver a sustainable product that is cost competitive, and where the ingredients in the form of wind, solar and CO2 in principle are unlimited.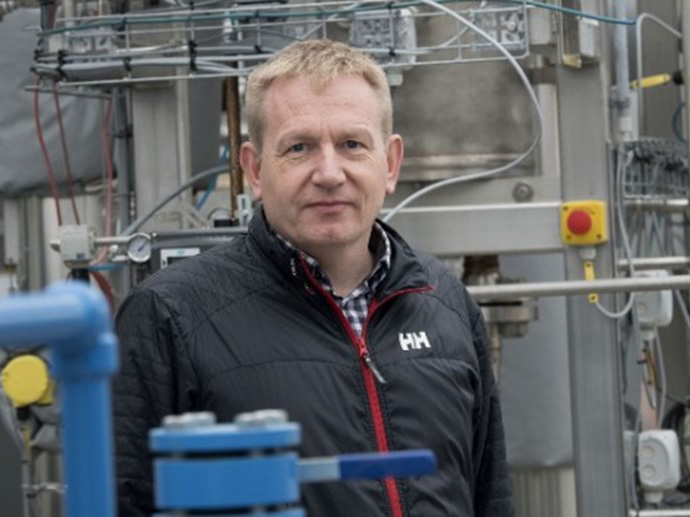 The total budget for the MeSAF project is 2,6 million USD, of which the Danish technology development program EUDP has funded 1,37 million USD